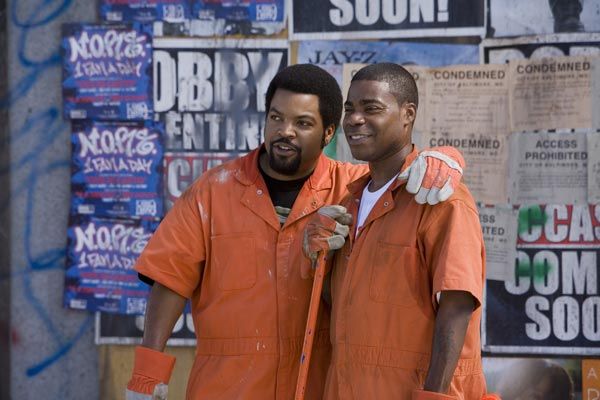 Ice Cube (left) and Tracy Morgan star in "First Sunday"
Sandra Varner's Celebrity Profiles
Hollywood embraces the church community in David E. Talbert's First Sunday, opening in theatres on January 11th.
What happens when a down-on-his-luck single father fails repeatedly and the one thing that he's good at is threatened? Durell (Ice Cube) may not win an award for parenting, but there's no doubt he loves his son, Durell, Jr., and will do anything for him.
Young Durell's mother, Omunique (Regina Hall) wants a better life and is tired of doing hair at the salon and at home to make ends meet. Plus, she needs over $17,000 to keep the shop open if they are to stay in Baltimore. Frustrated, broke and tired of big Durell's empty promises, she plans to move to Atlanta.
Taking his son away would destroy Durell, emotionally.
Desperate, Durell makes a dumb move. He teams up –yet again– with his bumbling, two-bit hustling best friend, LeeJohn (Tracy Morgan) to take money from the church building fund contributed to on the first Sunday.
Needless to say, their plan goes awry but, what transpires in the process –in a parable like none other– is a story of redemption. In this funny yet touching tale, Talbert rolls out his trademark soap opera inspired offerings featuring "the faithful and the foolish" and we witness salvation, with a contemporary flair.
Talbert, with a successful string of stage plays to his credit (Love In the Nick of Tyme, Fabric of A Man, Tellin It like It Tis') takes his talent to the big screen as a first time feature filmmaker, teaming up with Ice Cube's Cube Vision production company. Cube Vision is known for their string of successful family-friendly movies (Are We There Yet?, Are We Done Yet?, the Barbershop franchise). Their collaboration on FIRST SUNDAY is in partnership with Screens Gems Films (This Christmas, Stomp the Yard) and together, they have packaged a story that touches upon several pillars within the church tradition, namely, the first Sunday.
Traditionally, the first Sunday is the most revered among the month and its no coincidence that this film opens on 1/11. I'd say a point well made and hopefully, well-taken.
The cast of highly favored stars include: Ice Cube, Tracy Morgan and Katt Williams along with Loretta Devine (This Christmas, Dreamgirls), Chi McBride (Roll Bounce, TV's Boston Public), Malinda Williams (Idlewild, Showtime's Soul Food), Olivia Cole (Women of Brewster's Place, Roots), Michael Beach (Soul Food, Waiting to Exhale), Keith David (ATL, Barbershop), Regina Hall (Scary Movie franchise), C. J. Sanders (Ray), Nicholas Turturro (Malcolm X, Do The Right Thing), Clifton Powell (The Gospel, Friday After Next), Starletta DuPois (Waiting to Exhale, Hollywood Shuffle), P.J. Byrne (Charlie Wilson's War), Kim Staunton (Changing Lanes, Amos and Andrew) and Rickey Smiley (Friday After Next) in one of the funniest faith-based, urban tales with a redeeming message and positive reflection on the black church community.
Moreover, if the proof of Talbert's multi-generational lineage of faith (his family history includes layers of ministers) is any evidence of the power of prayer, FIRST SUNDAY marks the first ever church service both Ice Cube and Tracy Morgan attended.
And on that note, let the church say, Amen!